TV Series: Cast of Characters
Otowa-No-Mori West High, is where the entire main cast go to school to. As can be expected, The main characters of Boys Be... appear on all 13 episodes and all belong to one peer group.



CHARACTER PROFILE: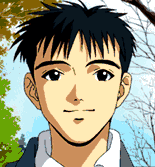 Name: Kyoichi Kanzaki
Age: 16 (at the start of the series)
Height: 162.5 cm.
School: Otowa-No-Mori West High
Year: 2nd year
Section: Section 1
Likes: Painting, drawing/sketching, and good art
Hair Color: Black
Eye Color: Blue
Description: Kyoichi is a very kind-hearted, loving and caring person & although his greatest weakness is not being able to express how he really feels, deep inside he is very thoughtful and passionate. His lack of expression and obscurity is mostly only due to his fears of getting hurt. But even if this is so, he never fails to act sensitively and maturely in all situations. Kyoichi currently resides in Tokyo with his parents and elder sister, Sayaka.
OTOWA-NO-MORI HIGHSCHOOL:
Main Characters of Boys Be...
SECONDARY CHARACTERS:
Other Characters of Boys Be...
| STORY | CAST OF CHARACTERS |
| EPISODE SUMMARIES | SCRIPTS |
| PROVERBS | QUOTABLE QUOTES |