TV Series: Cast of Characters
Otowa-No-Mori West High, is where the entire main cast go to school to. As can be expected, The main characters of Boys Be... appear on all 13 episodes and all belong to one peer group.



CHARACTER PROFILE: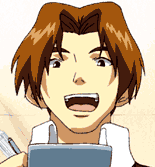 Name: Makoto Kurumizawa
Age: 16 (at the start of the series)
Height: --- cm.
School: Otowa-No-Mori West High
Year: 2nd year
Section: Section 1 (at the start of the series)
Likes: Girls, girls, and more girls. Also like computers, latest technology, arcades love books and even more girls!!!
Hair Color: Blondish Brown
Eye Color: Blue-green
Description: Makoto is a girl-crazy, goofy, fun-loving guy who prides himself in knowing a lot about women and even has a complete record of each and every girl's information in their highschool stored in his laptop. But in truth, Makoto doesn't really have much experience with girls and tries to make up for it by reading all kinds of love books and watching all sorts of movies. Well, needless to say, he's somewhat of a pervert but it is only out of desperation of not having a proper romantic relationship. He's very much obsessed with having the 'perfect girlfriend' but cannot seem to find one who suits him best. Makoto lives with his Mother and works in a coffee shop (which looks more like a fast food burger joint) which they own. He is also very interested with computers and the latest in technological breakthroughs.
OTOWA-NO-MORI HIGHSCHOOL:
Main Characters of Boys Be...
SECONDARY CHARACTERS:
Other Characters of Boys Be...
| STORY | CAST OF CHARACTERS |
| EPISODE SUMMARIES | SCRIPTS |
| PROVERBS | QUOTABLE QUOTES |