TV Series: Cast of Characters
Otowa-No-Mori West High, is where the entire main cast go to school to. As can be expected, The main characters of Boys Be... appear on all 13 episodes and all belong to one peer group.



CHARACTER PROFILE: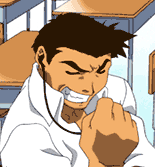 Name: Yoshihiko Kenjo
Age: 16 (at the start of the series)
Height: --- cm.
School: Otowa-No-Mori West High
Year: 2nd year
Section: Section 1 (at the start of the series)
Likes: Baseball and other sports (girls?)
Hair Color: Brown
Eye Color: Grayish Bluish-dark green
Description: Yoshihiko is the athletic and popular guy of the group. Although he is undoubtedly the best baseball player in the entire school, he prefers only joining in baseball practices rather than participating in the actual tournaments because he feels that he can never devote himself to only one thing. He almost always puts on a 'tough' facade which renders him as kind of insensitive and unromantic. But in reality, he is a nice and dependable person who just has trouble understanding others' feelings as well as his own. Kenjo is the sort of guy who is good at everything he does because once he becomes interested in something, he puts his mind, body, soul and heart in it. Plus he is a born-natural when it comes to sports.
OTOWA-NO-MORI HIGHSCHOOL:
Main Characters of Boys Be...
SECONDARY CHARACTERS:
Other Characters of Boys Be...
| STORY | CAST OF CHARACTERS |
| EPISODE SUMMARIES | SCRIPTS |
| PROVERBS | QUOTABLE QUOTES |